The Economic Development Committee is seeking individuals, respresenting businessess of all types to assist us to promote Southwold, develop ideas and pursue opportuniites in the growth of the Township. If you are interested in joining the committee you can fill in the Adobe pdf Southwold Economic Development Committee Questionnaire or the online web form
Committee Members
Chair:  Councillor Peter North
Voting Members:  Councillor Justin Pennings, Steve Bushell,  Grayden Laing
                               Jim Carder,  Barry Harrison, Hiba Arabi                                                    
Non-Voting Members:    Elgin Business Resource Centre, Staff Resource
                                         Elgin County Economic Development, Staff Resource
Economic Development Committee Meeting Minutes 
2017                          

2018                                                                         

        2019               
2020
2021         
March 28, 2017
January 31, 2018
May 27, 2019
January 28, 2020
January 19, 2021
April 26, 2017
March 7, 2018
 
February 25, 2020
February 16, 2021
June 28, 2017
 
 
June 16, 2020
March 23, 2021
September 20, 2017
 
 
July 21, 2020

 

 

 

October 19, 2017
 
 
Aug 18, 2020
 
November 22, 2017                       
 
 
Sept 22, 2020
 
                             
 
 
Oct 20
 
 
 
 
Nov 17 2020
 
 
 
 
Dec 8, 2020
 
Sustainability Plan
The Sustainability Plan was completed and adopted by Council at its regular meeting of July 8, 2013.  We are pleased to provide this plan to our residents via the website and at the office.
Sustainability Plan Yearly Update October 2016
Sustainability Plan Yearly Update  December 2017
You, the ratepayer, are a valuable contributor to our operations.
Your feedback is appreciated as we grow through the Sustainability Plan process.
SOUTHWOLD ECONOMIC DEVELOPMENT COMMITTEE UPDATES
ST. THOMAS & ELGIN HOME BUILDERS' ASSOCIATION
The Township of Southwold is a member of the St. Thomas & Elgin Home Builders' Association.
For more information of this assocation http://www.twentyfivepercentmorelife.com/
Congratulations North Star Windows & Doors! 
The Township of Southwold extends CONGRATULATIONS to North Star Windows & Doors on the announcement that the provincial government of Ontario is investing $1.2M in plant upgrades and an expansion. 
Thank you to local area MPPs and all levels of government who worked hard to make this investment in North Star Windows & Doors and the community of Southwold a reality!
Big Changes to Talbotville Berry Farm!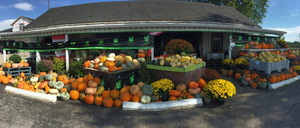 On October 31, 2016 the current Talbotville Berry Farm produce stand, in operation since 1969, will close its doors for the last time. On November 25 a new market with a new vision will open in its place. 
Gerry and Shirley Simpson currently operate the produce stand and farm originally started by Shirley's parents Peter and Mary Oostvogels. The pair work to keep the family dream alive. 
Expanding on their dream they sell home-grown produce, preserves and baked goods, support other local growers and producers, host school field trips, and run Fun Fall Family Weekends that include a corn maze (haunted after dark), and wagon rides during the month of October.
   The Township of Southwold wishes to congratulate Talbotville Berry Farm on the opening of their new market!